Oct 11
21
This installment in our series of dental office design case histories focuses on the importance of selecting the right dental office designer. I'd like to start off with a testimonial from one of my clients that highlights the issue precisely (it really is much more compelling when if comes directly from a dentist that I've worked with).
"Dear George,

I wanted to thank you for a job well done. As you know I started the design process of my office about a month prior to contacting you. I started working with a company that had an 'in house' architect and was well into the bidding and planning when we ran into some issues that in my opinion should have been apparent from the beginning! That's when I hesitantly contacted you and asked for help – I was hesitant because I did not want to spend the extra money. But I have to admit that I was wrong and that this was the best money I spent."
The above is an excerpt from a testimonial I received from one of my dental office design clients, Dr. Mahallati. Unfortunately the situation he experienced happens too frequently. Selecting the right dental office designer is as important as selecting the right location to do your dentistry.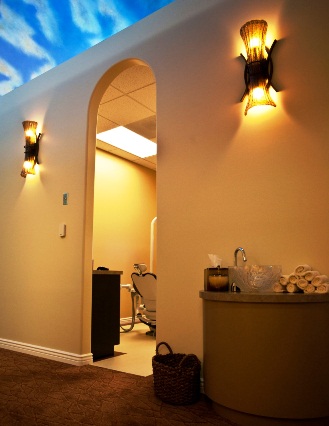 A dental office is one of the most complex offices to design. It has more of everything including plumbing, electrical, lighting, etc. Not only does the dental office designer need to know the specifications of the dental equipment to be installed, but they need to know how it will fit into the design and meet the building codes.
Every doctor is an individual and an interior designer must determine that dentist's particular needs. As an example, one of the first questions that I ask my clients is: "What don't you like about your existing office?"
For some doctors the answers come quickly. Other dentists, after giving it some thought, realize they have been living with an uncomfortable work environment and their workday could be made easier in the new dental office design.
In addition to getting references and seeing some completed dental office design projects in person, listed below are questions you should ask when considering an interior designer for your dental office.
Key questions you want a dental office designer to answer when about dental office design.
How many dental offices has the dental office interior designer completed?
How familiar is the interior designer with dental office equipment?
Can the interior designer accomplish your goals within your square footage and still meet building codes?
Does the dental office designer have experience designing for your particular specialty?
Can the dental office designer fulfill all your needs or will an architect be required?
What has been the most difficult design problem the interior designer has had to overcome?
Does the interior designer take their plans through plan check and do they guarantee that the plans will pass?
Be sure that these questions are answered to your satisfaction. When building out a new dental office you have a blank canvas. Your dental office design is the foundation, and therefore the most crucial element. If your dental office is designed correctly you will have the proper amount of functional space in each area and it will flow smoothly. This will increase efficiency, add to patient satisfaction and ultimately improve the bottom line for your business.
For more dental office design case histories, see these previous "Don't Assume Anything" dental office design articles that you might have missed …