We create unique and exclusive dental office designs that enhance your dental practice in 4 important ways ...
Innovative - you will stand out from the rest with a unique and beautiful dental office design that surrounds your patients with a feeling of comfort and inspires a sense of trust and confidence.
Efficient - you'll appreciate an efficiently designed space layout that will significantly improve your productivity and make your dental practice a joy to operate.
Painless - we ensure that you avoid the many complex code, zoning and regulatory pitfalls saving you thousands of dollars and mountains of grief.
Unique - we offer unparalleled service from the beginning to end of your project. No other design firm delivers the level of service we provide.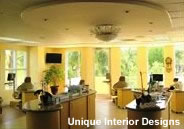 Smart dental office design is important to your bottom line but building a new dental office today has become a tangle of complexities and pitfalls and many doctors are unaware of the potential problems.
Being in the unique position as an expert in dental office design and with many years experience dealing with city planners, I can help resolve issues that may save you thousands of dollars.
As a Certified Interior Designer with over 1,300 dental offices to my credit, I use a an exclusive customized pre-planning approach that ensures we address the potential issues and design your office to fit your needs, guaranteeing your plans will go through plancheck.
To find out more, be sure to signup for our report "Ten Common Assumptions That Will Undermine a Dental Office Design Project Every Time"! You won't believe how much valuable information we give away for FREE! Get instance access to the report right now, see the sign-up box on the right.