Dental Office Interior Decorating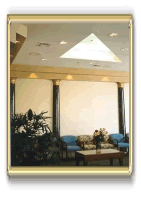 Whether you are decorating a brand new office or re-decorating your existing one it is important to know that your finished office will have a cohesive look, blending the elements into an atmosphere that will be inviting and comforting to your patients.
We consider your thoughts, style and budget as well as any special needs like practice specialty. At Unique Interior Designs we have the knowledge and experience to help you achieve the look you desire.
Style and Theme Analysis
Contemporary, Traditional, Transitional?
There are a number of styles to choose from. We review the various styles to determine what would be appropriate for your taste.
Jungle, Beach, Circus?
You may wish to have some sort of theme throughout your office or just in one area like the children's play area. These are just a few of the unlimited themes to choose from. If you are designing a new office we can include construction elements to enhance the look. If you are re-decorating we can use finishing materials to portray the atmosphere.
Unique Finishings
How can my office look special on a tight budget?
Used properly, creativity and attention to detail can stretch your budget especially with today's exciting techniques and materials. Washing the wall with lighting, trompe l'oeil (fool-the-eye) murals, textured wall coverings that look like luxurious fabric, marble or metal; these are some of the many ways to make your office look special.
Color Coordination
Which colors, how many, where do I use them?
Color is one of the most important elements in setting the tone for your office. Whether you want an office that is upbeat or contemporary, sedate or sophisticated an appropriate color scheme can go a long way in helping you achieve the look you desire. As we go through the selection process we will hone in on the color scheme that works best for you.
Finishing Material Selection
Floors, walls, cabinets, where do I begin?
Using many years of experience and in-depth product knowledge we guide you through the selection process simply and systematically. With a complete selection of durable commercial materials to choose from, we discuss every wall, every floor, every ceiling and every cabinet reviewing every detail. We discuss product durability and general maintenance for each selection.
Furnishing Selections
Where do I get the materials we selected?
All finishing materials we select are generally available through your contractor, local commercial outlet or can be purchased from Unique Interior Designs at a competitive price.