Aug 11
15
Next in our series of dental office design case histories that focus on "don't assume anything", let's talk about square footage. We'll clear up some of the confusion about dental office square footage that can get you into trouble.
Understanding square footage can be a challenge. Square footage terminology like rentable, usable, load factors, common areas refer to some of the different measurements involved in determining how much usable space you actually have available inside your dental office suite.
This common confusion over square footage resulted in a major disappointment for my client Dr. F.
Do You Have Enough Usable Square Footage To Meet Your Dental Office Design Requirements?
When Dr. F. leased his dental office he was under the impression that he had 3,200 square feet within his space.  He was quite happy about it as his lease permitted him to sublet some of the space. Since he only needed 2,500 usable square feet he envisioned that he would be able to sublet the remaining 700 square feet and use the income to put towards his lease payments until he needed the additional room. 
When Dr. F. hired me to do his build-out plans he showed me the footprint of the space and told me to design only 2,500 square feet.  I measured the space as I always do to confirm the actual amount of space we had to work with.  Unfortunately I had to give him the bad news. He only had 2,550 net usable square feet.
He was quite upset when he handed me the lease and said "see, it says 3,200 square feet!"  After reading it carefully I explained that the 3,200 square feet actually included 650 square feet of common areas.  The common areas can include hallways, outside walls and other non-usable space. 
In frustration, Dr. F. complained "Why do I have to pay for non-usable space, that makes no sense!"
Calculating Square Footage For Your Dental Office Design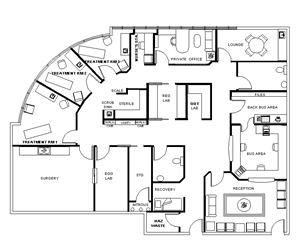 Building Owners and Managers Association (BOMA) is generally the standard used by property owners when calculating square footage.  Depending on the standard used, when you share common space with other occupants you are generally required to pay for some of the space even though it doesn't actually fall within your dental office suite.
Often included is half the demising walls and some portion of the outside walls, but the actual determination is up to the property owner and can differ from property to property.
Before signing any lease be sure to have the property owner, real estate agent or your interior designer carefully explain to you exacty how much net usable square footage you have within your dental suite.
For general information about real estate terminology, you can check the following website but keep in mind that this terminology is subject to interpretation:  http://www.buildingareameasurement.com/glossary.htm
For more information about The Building Owners and Managers Association standards refer to:  www.boma.org
When you design the space layout for a new dental office suite, you'll want to clearly understand the concept of "usable square footage". Misunderstanding the true square footage you have abailable for your dental office design is often the cause for additional cost and expense and uncecessary dissapointment.  This is another example where engaging the assistance of an experienced dental office design professional can definitely help you avoid additional problems and headaches with your dental office design or remodelling project.
You might be interested in these previous "Don't Assume Anything" dental office design articles …