Apr 12
27
Get ready for our new Dental Office Design Webinar Series entitled …
"Your Uniquely Designed Dental Office and How To Achieve It"
Beginning June 2012 we will be offering our new series of dental office design webinars that will help you avoid the common pitfalls you may encounter when setting up a new dental office. In this series of webinars we'll be covering many critical aspects of dental office design from finding the right location and lease negotiations to design and decorating issues.
Along with myself, George Fedyna, Certified Interior Designer, we will be featuring a guest speaker at each webinar in the series offering expert advice on the various topics that we'll be covering. You'll also have an opportunity to submit any questions you have and get the answers to your most pressing dental office design challenges.
In addition I will be granting CEU credits to the webinar attendees at no charge.
We'll be sending out the webinar signup forms and registration information by email. As long as you are subscribed to our email list you will automatically receive the webinar registration notices. If you're not already a subscriber, see the signup form in the upper right on our website.
So keep an eye out, you won't want to miss our upcoming webinar series!
CDA Anaheim Convention 2012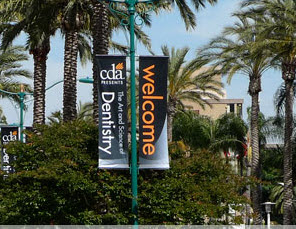 If you are coming to the CDA Anaheim Convention this year (May 3rd),  please be sure to stop by Booth #1587 and say hello.
You can sign up for our series of free webinars at our booth.