Jan 11
5
The January 2011 Webinar was a big hit!
If you missed our January 2011 webinar, you're in luck, we have you covered. We've included a bonus video recording of the webinar that you can have for FREE when you subscribe at our website!
For more information about the January webinar, see the following …
Ten Common Assumptions That Will Undermine a Dental Office Design Project Every Time!
Smart dental office design is important to your bottom line, but building a new dental office today has become a tangle of complexities and pitfalls and many doctors are unaware of the potential problems.
Unfortunately, you don't know what you don't know. That's why it's so important to employ an expert who can guide and direct you through this challenging process.
Some of the learning objectives include: 10 Critical Points to consider when building a new dental office today.
Don't assume that you can build your office at the location that you select.
Don't assume that you have the square footage that you need for your dental office.
Don't assume that your free rent will give you enough time to build out your suite.
Don't assume that all contractors are the same.
Don't assume that you have enough money to complete your office.
Don't assume that your building has no handicapped deficiencies.
Don't assume that the contractor's bid includes everything.
Don't assume that the landlord knows if the building has handicapped deficiencies or not.
Don't assume that your new dental equipment will fit into your new design.
Don't assume that your landlord will give you a better build-out deal if he says that you have to use his contractor.
And we'll be covering some great case studies too!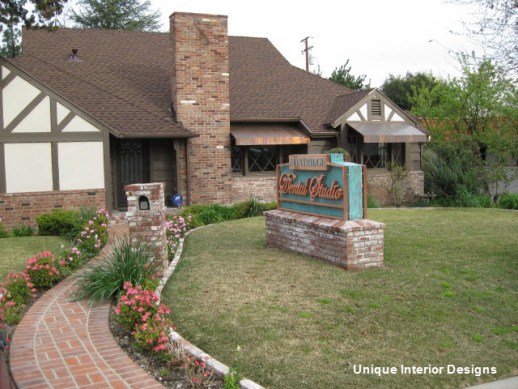 For example, the beautiful dental office shown to the right, was facing a difficult challenge with accessibility issues.
Looks fine, you don't see a problem, do you?
We'd like to give you the answer here, but you'll have to attend the webinar to find out …
… what the hidden accessibility problem is all about, and learn how we were able to stop this beautiful office frontage from being torn up because of accessibility issues!
About the Presenters:
George Fedyna, Certified Interior Designer has been designing dental offices for over 28 years and has built a reputation that has followed him, with over 1,300 dental offices to his credit. George's unique position was developed through years of experience selling dental merchandise and equipment. His thorough knowledge of code regulations and expertise in Dental Office Design, allows him to offer you a design perspective unrivaled in the industry. George is the founder of Unique Interior Designs and is accredited through the CDA.
Dr. Lorne Lavine has long been considered the top dental technology expert in the world. Having worked with over 1600 practices, he is considered a worldwide expert in dental technology and in utilizing modern marketing systems to promote dental practices. His Digital Dentist newsletter has 26,000 subscribers.