Mar 12
28
For a change of pace in our ongoing series of dental office design case histories, I would like to respond to a question I am frequently asked by my out-of-state clients: "Can you design my dental office remotely?"
I began designing offices remotely in 1992. Around that time Associate Editor Ron Combs began featuring the "Office of the Month" series in the national magazine Dental Economics. An article appeared about an office I designed entitled the "Talk of Temecula." That article along with some advertising I did, prompted doctors from various areas of the country to contact me to design their dental offices.
Over the years I have designed scores of dental offices remotely and when asked "can you design my dental office remotely?" The simple answer is a resounding "Yes."
Dental Office Design Begins with Accurate Measurements
Accurate measurements are the key ingredient to accurate design. Once I have the footprint, I consult with the doctor to review his or her needs and make suggestions on how to best reach their goals. I contact the local government agencies to determine how the local code requirements may affect the design, then provide the doctor with the space plan for approval.
Once the space plan is approved we move on to the crucial specifications stage which includes plumbing, electrical, reflected ceiling and lighting, cabinetry design, etc. These specifications are necessary to get accurate contractor bids. Since the specifications are the same whether the office is right next door or 2,000 miles from me there is no need to visit the site.
Some states require that an architect or engineer stamp and sign my plans for city approval. I work with a network of professionals throughout the country that can provide that service, if desired. Additionally I am always available to answer questions and today, thanks to modern technology with Internet communication technologies like Skype, viewing the site is easy.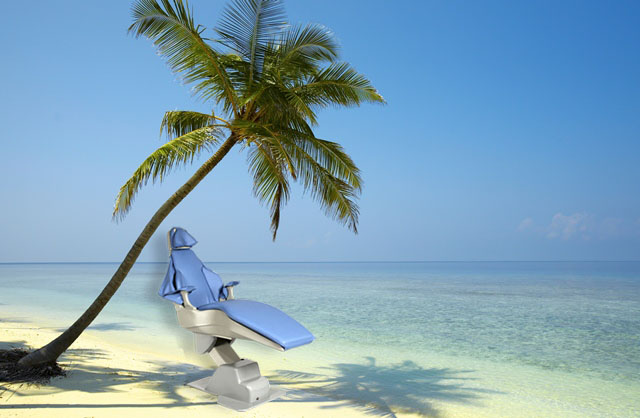 We receive requests from dentists in many different locations throughout the country for assistance with their dental office design projects, including Hawaii.
The possibilities for a dental office design with a Hawaiian influence gets my imagination going. Perhaps something serene, relaxing and peaceful like you see to the left.
All kidding aside, the following is a quote from one of my favorite design challenges, a 682 sq.ft. dental office in Hawaii.
To whomever this may concern:
Back in 1996 I wanted to start my own dental practice and after researching where to rent, we found a very small 628 sq. ft. office. Naturally with such a small office, space is at an absolute premium and nothing could be wasted. Hawaii has some of the most expensive real estate in the world.
We looked around the country and after talking to George on the phone and seeing his work we were convinced to give him a shot at our business.
Needless to say we were extremely pleased about the whole process. He sent over multiple plans and we decided to go with him. It was easy and quick. He designed to code and we just sent it thru planning and got the permit in 1.5 months. Maybe a record in Hawaii.
We are at the moment looking for a larger space as prices have finally come down. And we plan on using George and his wife Ren'e again for our new office.
I highly recommend him for any of your dental office needs. The magic he did with 628 sq. ft. was amazing. Can't wait to see his design for a larger office.
Dr. Gloria Rongcal Gage DMD" Maui,HI
Feel free to contact me with your questions regarding remote dental office design or any other dental office design questions you may have.
For more dental office design case histories, see these previous "Don't Assume Anything" dental office design articles that you might have missed …