Oct 13
20
One of the most critical steps to achieve your ideal dental office design is a carefully prepared and well-thought out plan with precise drawings that articulate every detail. More important, a dental office design needs to match your specific needs and requirements that best utilize your office space. And every dental practice, office space and building requirement is unique, hence the name of my company "Unique Interior Designs".
What About Those Generic Floor Plans?
Don't be tempted to solve your unique and specific office design by trying to utilize a generic, boilerplate dental office floor plan. Perhaps you have seen these drawings? You might be thinking, in an attempt to save a few dollars, that some sort of generic or standard dental office floor-plan layout for a 1500 square foot space should do the trick.
You'd be making a big mistake, actually. There really is no such thing as a "standard dental office floor plan" that would work in every situation or would actually meet the specific needs and requirements that you have for your dental practice.
I Don't Provide Generic Dental Office Floor Plans
For this reason, I refrain from making generalized dental office floor plans available on this website. I would be doing you a disservice if I somehow led you to believe these boilerplate floor plans would actually work for your dental office.
Nonetheless, I am asked from time to time …. "hey George, it would be helpful if I could see a sample of your work.  Could you provide some sample drawings and designs to look at  …"
Fair enough, here are some sample exterior elevations from a recent job we did for a client.
Bear in mind, the exterior design and plan for your dental office is important as well. As a matter of fact, you can just as easily get into trouble on the outside of your office with municipal codes and regulations governing building accessibility for people with disabilities for example.
In addition, just as important as the designs, drawings and blueprints themselves, you also need to assure that you can get these designs approved. That's where a lot of my expertise comes into play. I've included the note I received back from the city plan checker indicating his approval, something you'll want to consider when you select an interior designer you want to work with.
Sample Dental Office Exterior Elevations
(click on the images below to view full-size)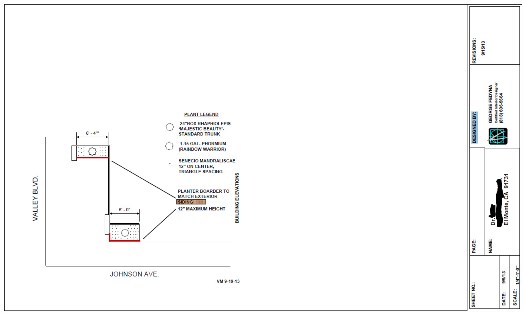 Dental Office Exterior Elevations – Page 1 (click on image to view full-size)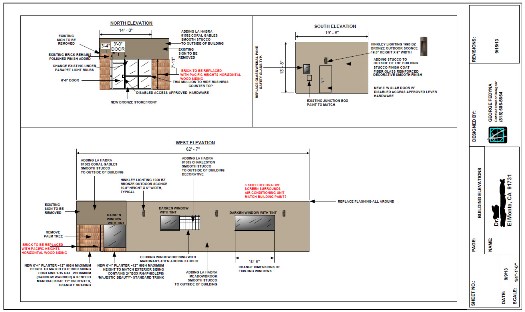 Dental Office Exterior Elevations – Page 2 (click on image to view full-size)
And the approval from the plan checker. Remember, you can come up with the best designs and plans in the world, but you still have to get them approved!

Dental Office Design drawings and plans provide the critical translation between you and your designer and the construction team that will actually build out your dental office. The drawings and designs also help you acquire the all important approvals from the city.
And don't forget, your dental office design may also need to include the exterior and outside plan as well. It doesn't always have to include outside of the building drawings but if it does this is a good example of what we can do.