Apr 13
8
Through a series of articles that I continue to publish here at the Unique Interior Designs website, I hope that I've been able to communicate the value that a qualified dental office design professional can bring to the table. Sometimes the best examples that I can provide come directly from some of my clients in the form of a much appreciated testimonial.
If you have been following this blog, you know that one of the key dental office design principles that I preach over and over again is "don't assume anything". In a testimonial from Dr. Howard Glassman (see below), one of my recent clients, here's a perfect example that clearly demonstrates this point.
I worked recently with Dr. Howard Glassman to design his new dental office. The first issues that I noticed would need some attention were various weak points in the air conditioning and disabled access aspects in the new office space. Because Dr. Glassman was able to bring me in before he signed the lease, I was able to work with the landlord to correct these issues at no additional cost to my client. As Dr. Glassman notes, he wouldn't have known to check these areas.
The dentists that I work with are certainly capable business men and women, however, most of my clients would not be sufficiently knowledgeable and experienced in these areas to negotiate these type of items with the landlord.
Perhaps a bit more challenging than understanding when and how to negotiate dental office space issues with the landlord, dealing with the city over any number of code, permit and regulatory issues can be particularly daunting. As Dr. Glassman notes, we had a challenge to overcome a "Conditional Use Permit" requirement. After several days of careful negotiation with the city, I was actually able to convince them that the "conditional use permit" wasn't necessary and they lifted the requirement.
Bottom line, I was able to save my client thousands of dollars and weeks of valuable time and effort to move this successful dental office design project through. My sincere thanks to Dr. Glassman for providing this testimonial. I hope this will give you some additional insight as you prepare for your next dental office design project.
You can see the testimonial from Dr. Glassman below, or visit our testimonial page here.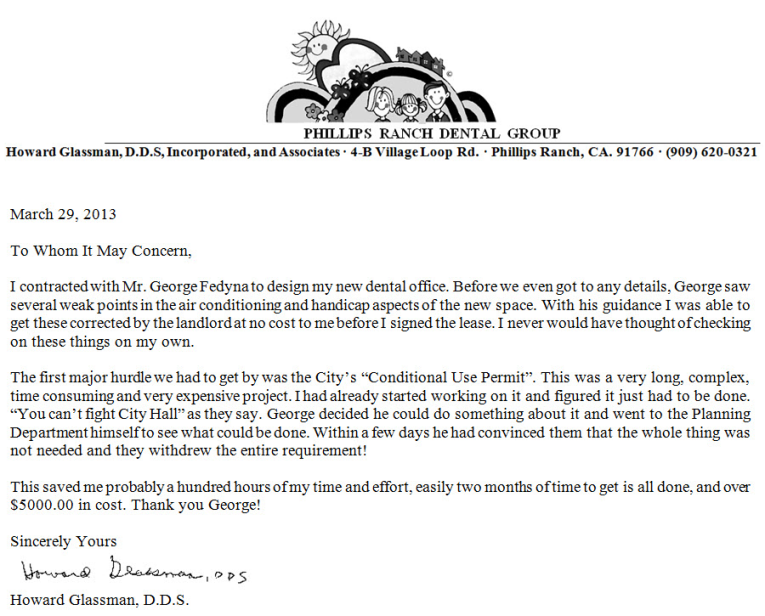 Dr. Howard Glassman, D.D.S. – Testimonial
See These dental office design case histories you may have missed …