Oct 11
1
This next installment in our series of dental office design case histories talks about upgrading computer equipment in your dental office. We'll highlite some of the challenges you can encounter when you integrate computers into your dental office design.
It's almost impossible to go to a movie or bank or any place of business today without seeing a computer happily humming away.  And how many desktops, laptops, tablets and all other forms of computers do you have in your home?  Computers are ubiquitous, and once you get used to having them it's hard to live without them.
Up until recent times a dental office could function extremely well without a computer and many offices still do. But as the 21st century speeds forward, more and more dental offices are adding computers and most new dental offices plan for them.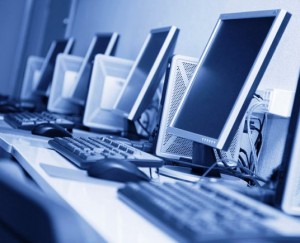 It would seem pretty easy to incorporate computers into your dental office design. Just go to your local electronics store and pick up some computers and monitors, plug them in and you're set to go. 
Unfortunately it's generally not that easy.  At least that's what a customer of mine, Dr. S. found out when he purchased some computers for his new office.
When Dr. S. hired me to work on his dental office design he wasn't sure what he wanted to do about his computers.  I suggested he contact an Information Technology (IT) specialist so that his office would function smoothly from a computer standpoint.  This was the second dental office for Dr. S., and he said it wouldn't be necessary since he had done this before. He felt confident he could make the right computer decisions.
Modern dental office design needs to incorporate your computer and technology requirements
While preparing the complete set of dental office design bid plans for Dr. S., I requested and received the dimensions of the new CPU's he purchased.  I designed cabinets to accommodate the CPUs and sent them along with the completed set of plans to the doctor for approval, which I received.  During construction I made an inspection visit to the jobsite and asked the doctor if he received the CPU's he ordered. He said that he did.  I asked to see them as I wanted to double-check the dimensions as a precaution.
It is a very good thing I did …
While the CPU dimensions were correct, what the doctor didn't realize was the brand of CPU he purchased needed 21.5" of overall depth rather than the 17" of depth specified by the manufacturer.  Dr. S. planned on running two monitors to each CPU.  The company he purchased the CPU from uses a 4.5" adapter to accommodate 2 monitors.  This means that the CPU would project out of the cabinet by 4 inches.  I contacted the manufacturer who told me that this is how they make it and there is no other option.  
When the doctor asked me what the best course of action would be, I knew it was time for me to contact a dental computer expert so I called Dr. Lorne Lavine.  He suggested the doctor return the CPU's and advised me of the best computer equipment to get under these circumstances.  But when the doctor tried to return the CPUs the company gave him the run around.  Once again I contacted Dr. Lavine and he gave us the name of his contact at the company and from there everything moved ahead smoothly.
A proper dental office design should always incorporate your computer and technology requirements. When planning on upgrading or building a new dental office you may save yourself a great deal of time and trouble by consulting a qualified dental technology consultant.  
To learn more about dental office technology contact Dr. Lorne Lavine at www.thedigitaldentist.com
You might be interested in these previous "Don't Assume Anything" dental office design articles …