Jul 11
5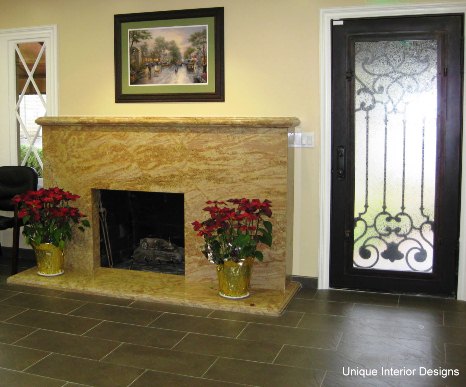 When I kickoff a dental office decorating job with a new client, the process begins with a great deal of discussion looking at different dental office flooring options.
In our conversation the three most commonly asked questions I hear are: 
Is the flooring easy to keep clean?
How long will the flooring last? 
How much will the dental office flooring  cost? 
To answer these questions we'll take a look at the pros and cons of some of the most common commercial flooring types.
But first, below are some general dental office decorating questions for you to consider. Your answers may help you determine what will work best for your needs.
Answer These Questions First To Begin The Dental Office Decorating Process
What Kind Of Dental Practice Do You Have?
Do you perform surgery, have a lot of young patients, work within a certain economic base or community?
What Is The Purpose Of Each Area?
Obviously carpet wouldn't be a good choice in Sterilization but should you use it in the lounge?
Where Is Your Dental Office Located?
Are you on the ground floor where patients can track in dirt or mud?
What Is Your Dental Office Decorating Budget?
Carpet and Laminate Flooring are easier on the budget than Luxury Vinyl and Stone. Best to know all your choices before you commit.
What Is The Condition Of Your Subfloor?
Does your subfloor have deep cracks or do you have a moisture problem?
What Quality Maintenance Do You Have?
The two most important issues for longevity of materials is first-rate installation and first-rate maintenance.  If you want to keep your floors looking good for a long time, get the best dental office maintenance you can afford with your budget.
How "Green" Are You?
Recycling is important for the future of our planet. Although most manufacturers are working hard towards increasing their recycling capabilities, some products are more "green"  than others and you'll want to know more about them.For more information check the U.S. Green Building Council website:  http://www.usgbc.org/. In addition, each commercial manufacturer provides sustainable information about their products on their websites.
Carpet Flooring Choice – Dental Office Decorating
Although everyone is familiar with carpet, not everyone knows there are different types.  For instance I always recommend 100% nylon carpet as it provides the best durability, largest color and style choices.
Olefin is another type, often used in tenant improvement because of its low cost.  Olefin's main advantages are price and resistance to soil and water.  However, when crushed, it doesn't regain its original shape easily. After a few years of wear, Olefin can often become very matted and the traffic lanes flatten out.
Overall, the main advantages of carpet are sound reduction, price, style and color selection and carpet is the most forgiving product over uneven floors. The main disadvantage is soil retention.
Luxury Vinyl Flooring Material – Dental Office Decorating
When most people think of vinyl flooring, they conjure up images of supermarket style industrial vinyl tiles or their mother's kitchen linoleum. But that's not the case with luxury vinyl.   What sets today's luxury vinyl apart from the vinyl of days past is appearance. Luxury vinyl mimics a number of other flooring materials and does it well. It generally comes in either planks that look like hardwoods or tiles that resemble stone, metal, marble, etc.
The advantage of luxury vinyl is that it works well in high traffic areas and is easy to maintain with only damp mopping. Or if you prefer the polished look it can be buffed.  The disadvantages are that the subfloor must be in good condition and it is one of the more expensive flooring types.
Laminate Flooring – Dental Office Decorating
Laminate flooring has a number of layers but basically it is a wear resistant high pressure laminate layer over high density fiberboard.  Mostly it is designed to look like wood floors and is becoming more visually convincing and realistic all the time.
The advantages are it is reasonably priced, comes in multiple colors and styles and installation is not difficult. The only maintenance required is damp mopping.  The disadvantages are the subfloor must be in good condition, does not work well with excessive water and it's one of the noisier flooring types.
Sheet Vinyl Flooring Material – Dental Office Decorating
This is the stuff that you might see on your mom's kitchen floor, however the styles have improved somewhat.  Although it generally comes in about six foot widths requiring seams in your operatory, it is possible to get it in 12 foot widths but with very limited selection choice.
The main advantage is that the price is reasonable. The disadvantages are limited styles, high level of maintenance requirements, (although some manufacturers do offer "no-wax"), the subfloor must be in good condition and the flooring seams may eventually come up.
Vinyl Composition Tile (VCT) – Dental Office Decorating
This is the supermarket stuff.  It comes in 12" squares and there are a multitude of colors and patterns.  It's easy to install and the least expensive material.  But vinyl composition tile requires waxing and stripping and is not known for durability or aesthetics.
Porcelain, Ceramic and Stone flooring materials – Dental Office Decorating
With so many styles, colors and textures to choose from, its long-standing durability and minimum maintenance requirements porcelain, ceramic and stone material is a great flooring option.  But the major advantage is also its major disadvantage, i.e. the hardness of the material.  It can be very noisy and if you install it in a long hall it can become tiresome for your staff to walk on by the end of the day.  Other disadvantages are the price. And the grout can get dirty over time.
Dental Office Decorating – Style and Function
So when designing or remodeling your dental office you should not only be concerned with style but function as well.  It's extremely important that whatever flooring material you decide to use be sure it has a good commercial warrantee because there are many good looking residential products that will not hold up well in high traffic commercial areas.
Once again I recommend working with a qualified dental office interior decorator who can give you more insight into each material type (like tip sheared carpet vs. loop pile graphic or rectified tile). A good interior decorator may give you some ideas about how to turn an average area into one that will have a truly uplifting impact for you and your patients.
Commercial Flooring Product Resources for your Dental Office Decorating Project
For more information about commercial flooring products I have listed some websites below.  I especially suggest you refer to their maintenance instructions to give you an idea of how much maintenance is required for the products you select.  Note that this is only a partial list and I'm not promoting any particular company.
Previous Dental Office Decorating Articles You May Have Missed